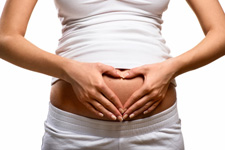 Pregnancy often brings many life transitions and new challenges. During this time, women experience anatomical, physiological and psychological changes. Pregnancy does a number on your posture; it compresses your lower back, weakens your core, and places added pressure on your legs and feet. All of these changes are most pronounced with your first pregnancy.
Evidence based research performed in the past 10 years on chiropractic, acupuncture and massage have shown that stress hormones, norepinephrine and cortisol, were reduced, while dopamine and serotonin levels were increased. Increased levels of dopamine and serotonin lead to enhanced mood regulation and improved cardiovascular health. Researchers have linked these hormonal changes to fewer complications during birth and fewer instances of newborn complications, such as low birth weight. The evidence strongly suggests the following health benefits with regular prenatal care:
Reduced back pain, pelvic pain and sciatic nerve pain
Alleviates stress on joints, increases flexibility and enhances the ability to carry the extra weight
Improved blood circulation which provides more oxygen and nutrients to both mother and fetus
Stimulates the lymph system thereby increasing immunity, removal of toxins and reduced edema
Assists in maintaining proper posture in response to a changing baby's weight and position
Ease insomnia
Whether it's chiropractic care, massage therapy, acupuncture or a combination of therapies, all are natural, safe and drug-free alternatives for pregnancy-related pain.